Dorothy's first visit to New York was the summer of 1935 when she and her sister, Esther, drove East from Kansas City to study at the Art Student's League. There is more information on this time for her in "Dorothy in Missouri".
She returned to New York in the Spring of 1936, this time under slightly extenuating circumstances.  "The old man who was the principal of the [high] school [where I was teaching in Kansas City] was kind of a sex ……  If you were up on a stool pinning pictures up at the top of the room, I was told by the other teachers, or at least the young teachers, that he would come in to help them off the stool and [he would] have roaming hands and he was well past eighty. And so, whenever I saw him coming, I backed away from him, and he didn't like that.  So he reported my work unsatisfactory.  But pretty soon, here came all the supervisors and everybody to observe in my room.  And I knew they didn't go any place else.  So, finally I asked somebody who would know 'why are all these people coming in?'  'We know it's not so, but he's reported your work inferior. . . We had to take his word for it, even though we know it's not so, so we're going to have to put you back into teaching the elementary school.'  Well, I didn't want to teach elementary school anymore, arithmetic and spelling and stuff. So I went to talk to Miss Turk, who was my old principal.  I told her the whole story and she said:  'Dorothy, can you scrape together enough money to get your Master's degree?'  So I took a leave of absence and went to New York."
She was accepted at Columbia University Teacher's College.  She attended classes in the Spring and Summer of 1937 and completed her course work in the summer of 1938.
An important part of her New York experience was living at International House.  "I had no place to live. But I had met a girl someplace, and she said: 'Why don't you, when you get there, get off the plane, take a taxi and go right straight to International House. It's a wonderful place to be.'  Dorothy was able to meet and become friends with fellow students from other countries, probably meeting students from abroad for the first time in her life.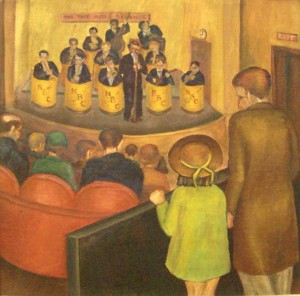 Her time at Columbia was a period of experimentation and growth. For the first time since she was nineteen, she was a full time student again.  Without the responsibilities of classroom teaching, she could experiment with new media and new styles.  She studied printmaking for the first time, and created linocuts and etchings.  This newfound knowledge of linocut and wood cut techniques flourished for her years later in California.  She also painted several major oil and egg tempera paintings including NBC Orchestra (left).  She was proud of this painting and it always hung in her living room in Arcadia.  "[NBC Orchestra] was done for a school exhibition.  The president of the college at Columbia University … had a reception in honor of all the graduates….and he had asked the art department to paint pictures representing New York to use as decorations for the reception.  I had painted that NBC one because I went to a lot of the broadcasts.  It looked very nice in the show." NBC Orchestra is executed in oil on canvas despite her previous problems with skin allergies. It is larger and more ambitious than her previous watercolors and smaller oil compositions. Both the musicians and audience have a sculptural, solid presence. The color is more high-key than her previous watercolor paintings would permit.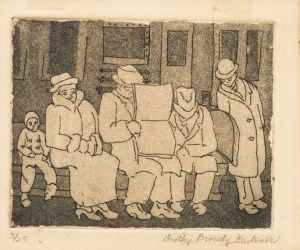 In all her New York work of this period, the figure and location (the subway, the recording studio, Grant's Tomb) have become more specific interests for her.  The figures have greater presence and weight in their execution.  In the print Subway (of which there was also an egg tempera version), Dorothy's interest in social realism and the depiction of everyday working people, in this case commuters, became more central.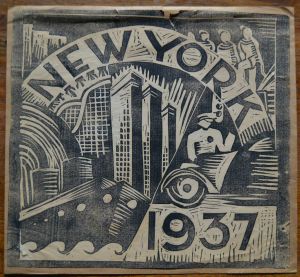 There is a strong art deco stylization emerging in these works, particularly in her lino cut New York as well as Tzypor, Katrinka and Wigwam.  This complex composition might have been a class assignment for a printmaking class at Columbia University. It is very much her personal celebration of the glamour of bright lights and big city. A fast car. An ocean line and waves. A bell hop. Ladies waiting (for a department store to open? for the subway?). Dorothy's sensibility and use of black and white: white woodblock lines against black, black forms silhouetted against white along with her juxtaposition of curves and straight lines shows a mature design sense that would come into its own some years later in her works of the early 1950s.   The imagery evokes a rather Joan Crawford-esque view of the life she was exposed to while living in New York City. Many of New York's art deco buildings were still being built (Rockefeller Center was completed in 1939), and this modernistic style must have had a strong impression on her. She often said, "New York is the city of the future."
She returned to Kansas City and taught high school art, but had decided to make a permanent move to New York.  "I began to study for the exams and so I spent many, many hours studying at the library and the librarian asked me if I was studying for my Doctorate and I said "no, but why do you ask?" and she said: "Because you're so diligent, working so hard."  Dorothy passed her test, and was assigned to Grover Cleveland High School in Queens where she started teaching art in 1940.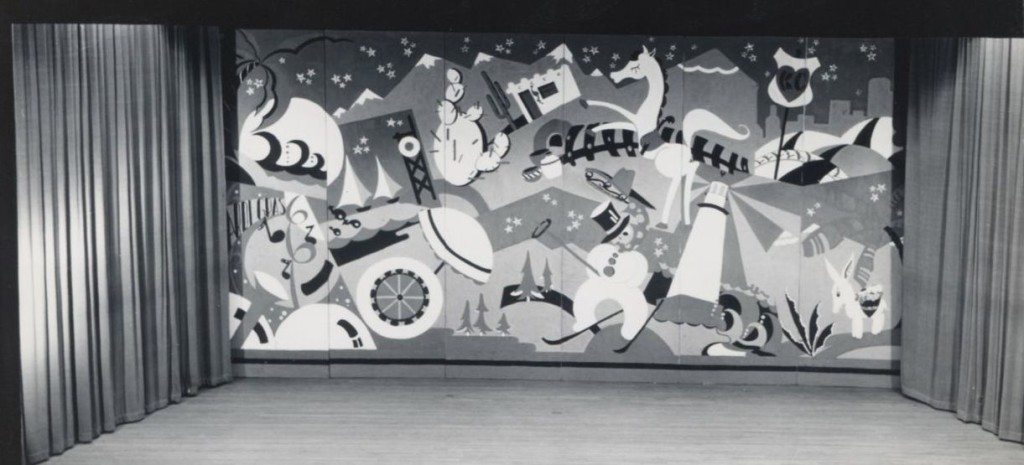 In marked contrast to her previous stays in New York, Dorothy did very little artwork during this period (1940-46).  "I did not paint then.   All my efforts were [in] helping my students. And then, of course, I had a very active social life.  We were assigned things to do, and I was in charge of makeup, so I had to be there for all the plays….I had a one-bedroom apartment  [shared with her sister Mae] and my teaching took a lot of my energy.  I was on committees and I had to attend those." Dorothy worked with her high school students on stage sets and a photo of one of their set paintings still exists. This painted backdrop has a jazzy, energetic contemporary feeling and she received a special commendation for her work with the drama department. Given her productivity when she was studying at The Art Student's League and Columbia, this hiatus in her painting life is a bit of a surprise.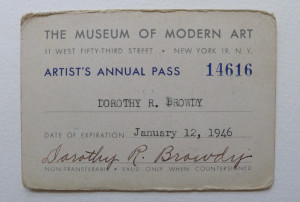 It is possible that she was a bit overwhelmed by New York's Modern Art scene. Although the Museum of Modern Art was open, Dorothy preferred to visit the Metropolitan Museum particularly the Egyptian collection. Many of the European avant garde artists migrated to New York at this time to avoid the disruptions of World War II, but it is not clear whether Dorothy saw much of their work.  Later, she did become a member of MoMA and must have seen quite a range of avant-garde work there. It is important to remember that World War II was going on during this time, and perhaps her previous style of painting seemed slightly irrelevant to the war effort.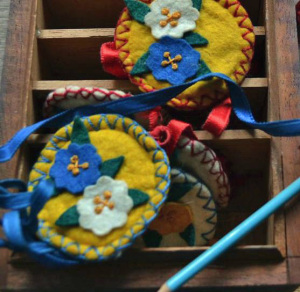 We do know that she was always making things in New York.  These groups of felt pins and objects might have been commercial prototypes or possibly gifts for friends.  She also crocheted and knitted clothing and blankets both for her own use as well as the war effort.  In a photo (below) taken of her and her future husband, Joe, she had made and beaded the chic hat which she is wearing.  She was someone who always kept busy, always creating, whether it was art or utilitarian objects.
Dorothy met her husband, Joseph Kushner, in New York in the Fall of 1946. He was a wholesale furrier in New York. After six weeks, he proposed marriage, she accepted and they were married that December.  As a wedding gift, her co-teachers gave her a book of Picasso's Guernica and related paintings. Modern Art was rampantly in the air. Dorothy soon gave notice at her school (married women were not allowed to teach public school in New York at that time in case they might become pregnant!).  Joe and Dorothy bought a car, started a cross-country trip and ended up in California.
All italicized quotes taken from a 1991 interview of Dorothy Browdy Kushner by Robert Kushner.